4 Advantages to Having Headshot Images in Employee Emails
I'm sure we all know this function exists, but in my experience hardly anyone uses it and I think they are seriously missing a trick. Almost all email providers give the option of adding a profile picture in your signature as you would in social media. And there are plenty of advantages of getting your employees to have headshots added to their email signatures.
Increased trust and relationships with Headshot images in email signatures
People relate more to faces than anything else. The problem with email is that it is a completely text-based platform and it is easy to forget that there is another person on the other side.
It is often the case in this digital world that we have professional relationships entirely through email. It is much harder – though not impossible – to build trust and relationships through faceless communication.  If we are being really honest with ourselves we would be more settled knowing who we are speaking to.
Professional Headshot Help In The first Meeting
Another problem with never finding out what someone looks like is that awkward position of standing in a busy restaurant not knowing who you're looking for. Imagine if everyone had a profile image linked to their email account so that you could recognize them in a crowd before even meeting them?
I was photographing a work event in the past where my client walked straight up to me in the crowd and warmly told me how nice it was to finally meet the face in the emails.

Corporate Portraits Inter-Office relations
We've all received an email from a colleague that has required us to take a deep breath and calm down before replying. Having profile pictures on your employees' emails means they relate what is written to a living breathing person with feelings, and that will make it easier for them to be calm and polite to each other over email.
If you have a large business where employees may never meet each other and only communicate thru email, having profile pictures may be a really simple way to build more relations between employees, which in turn could contribute to higher levels of morale.
It Looks Professional with Business Portraits
This depends on the photo; a picture of your employee at party surrounded with empty alcohol bottles is not going to make your company look professional. However, a strong professional photo looks much better than the blank default greeting.
There is even the possibility of the photos representation your brand message. Serious brand? Serious photos. Fun brand? Fun photos. Creative brand? Creative photos. The possibilities are endless.
Enjoy the "Ridgway Experience"
Having a truly professional looking profile picture for your emails, LinkedIn, Twitter and Facebook accounts, will strengthen your personal brand.
The experience of having a photo taken will be fantastic; the smile, look of confidence as you are guided into such a way to get the best possible result.
If you're thinking about getting employee headshots taken, whether for emails or otherwise, – not only do you get great results, but it's also an enjoyable experience.
Contact us now! or Call (618)288-9000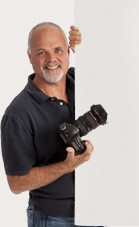 Post by- John Ridgeway
Ridgeway Portrait Design Business & Corporate Sevices
Visual Branding expert, Branding with Personalized Marketing Photography
Helping savvy entrepreneur leverage their photos to attract premium clients and cash to their growing business.
Call 618-288-9000 for more information or to schedule an appiontment.  Contact us