Personal branding and portrait photographer
Does your headshot fit your professional image?
The Greater St. Louis is very diverse with many different career opportunities. There is a large corporate community, lawyers, realtors, coaching/speaker educational sector and many other business professionals.
These professions all have one thing in common, they need high-quality professional headshots. 
It's important to realize professional headshots are not "one size fits all". Your headshot style and pose should match the image and brand you want to portray for your profession.
First, let's talk about choosing poses that fit your professional image. Whether you're sitting down, leaning in, crossing your arms, or another type of pose, your photographer should help you choose poses that capture your personal and professional brand.
For example, I suggest team leaders in the corporate world lean in with a big smile. It shows they are approachable, confident engaged. Definitely the type of person I would want to work for!
If you have a profession where you're connecting closely with people and that connection is part of your work, you may want a more casual image that shows a relaxed, approachable look. This could include a coach, blogger or therapist.
Other careers such as an attorney, doctor or accountant, should usually be more thoughtful in nature for their professional headshots. The pose and facial expression should be more of a confident look, but still convey a sense of trustworthiness, knowledge and yet friendly.
How the image is cropped is another component of getting the perfect headshot image for your career. Whether the headshot will be used in a presentation, on a website, on a business card, or on a professional social media site, how the image is cropped could make a drastic difference in the message it sends.
For example, when choosing a picture to put on business cards, it should be mostly a close-up of the face because the picture is small. You want the person looking at the card to have ready recognition of the person who gave them the card and a close-up of the face makes that possible.
When choosing a headshot image that will be used for LinkedIn or other social media, you will probably want to choose close –up where you are making a connection with your eyes. Sometimes even cropping the top of your head so that the eyes are in the top third of the crop. This will give you more of a connection for social media sites. 
All professionals need a headshot
It's exciting that so many opportunities exist to express a professional and personal brand. Are you ready to refresh your Business portrait image? 
Experience the FUN and Professionalism
The experience of having a photo taken will be fantastic; the smile, look of confidence as you are guided into such a way to get the best possible result.
Give me a call and schedule your professional headshot photoshoot, it's an enjoyable experience.
Contact us now! or Call (618)288-9000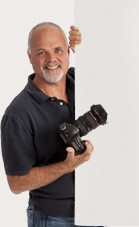 Post by- John Ridgeway
Ridgeway Portrait Design Business & Corporate Sevices
Visual Branding expert, Branding with Personalized Marketing Photography
Helping savvy entrepreneur leverage their photos to attract premium clients and cash to their growing business.
Call 618-288-9000 for more information or to schedule an appiontment.  Contact us